Julian's Auto Showcase

Vehicle Consignment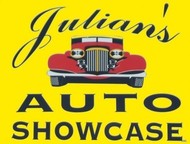 We sell your car and you get paid!
Department Hours M-F 8:30 a.m. to 6:00 p.m. Saturdays 9 a.m. to 3 p.m.
DEALERSHIP OPEN 7 DAYS A WEEK!!!
Steve Ferguson

Account Manager

727-848-8908
Benefits of selling to Julian's Auto Showcase
| | | | | |
| --- | --- | --- | --- | --- |
| | Get more for your vehicle than Trade-In value! | | | No phone calls or e-mails! Avoid strangers! |
| | No Hassles! Save time and Money! | | | We handle transfers, payoffs and all paperwork! |
| | Get paid in less than 1 Hour! | | | Hundreds of satisfied customers! |
| | | |
| --- | --- | --- |
| | Let us turn your car or truck back into cash! | |
| | Call 888 – 475 – 6784 Now! | |
How selling to Julian's works for you . . .
Bring in your car or truck for us to evaluate!
We'll look at the vehicle cosmetically and mechanically!
We make our offer to you right on the spot . . . typically within 1 hour!
No pressure to sell immediately . . . we give you a 7 Day Voucher if you prefer to wait!
You get FAIR MARKET VALUE for your vehicle!
Frequently Asked Questions (FAQ)
How long does it normally take to sell a vehicle?

We typically have an offer to you within 30 minutes and can complete the entire transaction in ONE HOUR OR LESS!
Do I need to have my vehicle detailed and serviced prior to bringing it to Julian's?
It is not necessary to detail your vehicle prior to bringing it to us. We know what can be done with a little 'elbow grease'. You won't be penalized simply because it rained that day!
I've lost the title to my vehicle...
If you have lost the title to your vehicle, you will need to get a duplicate title. Julian's can help you with this.
My name is not on the title. Can I still consign the car?
Yes, but Julian's will ask to verify your relationship with the owner. As a rule, Julian's will write the check only to the person named on the title or a party with a valid Power of Attorney. Call ahead to discuss, Julian's can assist you in the Motor Vehicle Power of Attorney process.
How is the value of my vehicle determined?
Julian's will take a number of factors into consideration before providing you with an offer. Some of those factors are age, mileage, condition, etc. We strive to always be fair with our offer to you!

My car is financed. Is that a problem?
It's not a problem. You can still sell a car to Julian's even if you are paying off a loan. It is important to bring your loan information with you when you bring your car in. We will get the payoff figure while you wait and settle with you right on the spot!
What must I bring?
Please bring with you the following: Drivers license of owners, Insurance Card, Registration, Recent repairs/service, Lien holder information (Account Number, approximate payoff.)
My car is registered in another state...
If your car is registered in another state Julian's can still buy your vehicle in most instances.
What if my certificate of title says "Rebuilt", "Salvage", "Flood" or "Lemon"?
Julian's will not consign or sell a vehicle with a "Salvage", "Rebuilt" "Flood" or "Lemon" title. This is also known as a "branded title".